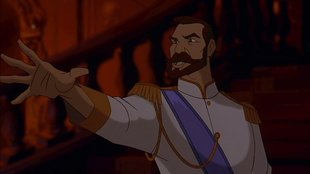 Czar Nicholas Romanov II of Russia is a minor character in the Don Bluth animated film, Anastasia. Based on the real life Tsar of Russia, Nicholas is arguably known as the last Russian monarch before the Imperial Family's dissolution during the Bolshevik Revolution. The father of Grand Duchess Anastasia Romanov, Nicholas and his family appear in the Don Bluth film as enemies to the mad monk Grigori Rasputin. The monk puts his scheme to take out the Russian Imperial Family with the help of the Bolshevik revolutionaries. He and his family, excluding his mother, Empress Marie, and his daughter, Anastasia, are executed, leaving only his daughter as successor to the family.
Regarding the villain tournaments, Nicholas appeared in the original round of the Non-Disney Villains Tournament, although, in the re-uploaded version of the tournament, Nicholas has yet to be mentioned.
Disney Vs Non Disney Villains War - Part Three
Non-Disney Villains Tournament
Nicholas demotes Rasputin as his royal advisor and puts Rothbart, in his stead. A battle between the two mystical villain then begin, with Rasputin easily defeating the evil sorcerer. Due to the fact, that the the tournament was re-uploaded, Nicholas has yet to be mentioned or seen in any other tournament.
Non Disney Heroes Vs Villains War