(Adding categories)

(7 intermediate revisions by one other user not shown)
Line 1:
Line 1:
 
+

[[File:Cranky_Kong.png|thumb]]'''Cranky Kong '''is [[Donkey Kong]]'s grandfather, and the original Donkey Kong. He is old-fashioned and generally isn't fond of newer video games. In ''Donkey Kong Country'' cartoon, Cranky is also a scientist, and watches the [[Crystal Coconut]], a powerful item meant to crown the current Donkey Kong to be the ruler of the island.

−

[[File:Cranky_Kong.png|thumb]]

 
 
+
⚫
 
 
+

Cranky Kong appears alongside rest of the [[Kong Family]] in [[Worst Hero And Villain War Ever]].[[Category:Characters]]

 

[[Category:Heroes]]

 

[[Category:Heroes]]

 

[[Category:Video Game Heroes]]

 

[[Category:Video Game Heroes]]

Line 11:
Line 12:
 

[[Category:Redeemed]]

 

[[Category:Redeemed]]

 

[[Category:Worst hero and villain tournament ever]]

 

[[Category:Worst hero and villain tournament ever]]

 
+

[[Category:Kong Family]]

 
+

[[Category:Doctors and Scientists]]

 
+

[[Category:Ryusei Nakao]]

 
+

[[Category:Daniel Beretta]]

 
+

[[Category:Yves Barsacq]]

 
⚫
---
Revision as of 21:20, 12 May 2020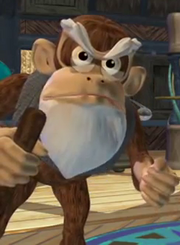 Cranky Kong is Donkey Kong's grandfather, and the original Donkey Kong. He is old-fashioned and generally isn't fond of newer video games. In Donkey Kong Country cartoon, Cranky is also a scientist, and watches the Crystal Coconut, a powerful item meant to crown the current Donkey Kong to be the ruler of the island.
Cranky Kong appears alongside rest of the Kong Family in Worst Hero And Villain War Ever.
Community content is available under
CC-BY-SA
unless otherwise noted.