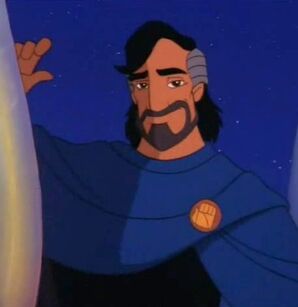 Cassim is a former antagonist, turned into a reformed anti-hero, in the direct-to-video Aladdin and the King of Thieves. The father of Aladdin, Cassim abandoned his family at an early age, becoming the King of Thieves of the Forty Thieves, with Sa'Luk serving as his subordinate. After many years he is confronted by Aladdin, now grown into an adult, and since then he tried to make his amends. While not the person who would escape easily from his own greed, Cassim puts his life at risk when his son is threatened by Sa'Luk. Since then, he is dismissed as the King of the Thieves, and starts his own way of living. He makes a cameo appearance in the first Disney Villains War, although he plays a crucial role the second Disney Heroes vs. Villains war. There, he repeats his role as King of Thieves, although whether he would make amends is currently unknown.
Disney Villains War
Cassim briefly appears in the fight between his subordinate, Sa'Luk, and Shan Yu, ultimately looking on as Shan Yu defeats Sa'Luk in combat and takes over the Forty Thieves to his cause. He does not make another appearance, thus his fate remains currently unknown.
Disney Heroes Vs Villains War - Part Two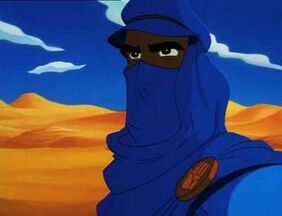 Community content is available under
CC-BY-SA
unless otherwise noted.