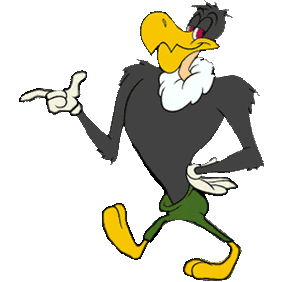 Buzz Buzzard is the most recurring villain from the Woody Woodpecker Show and in many ways the most popular, replacing Wally Walrus as Woody's foil. He is a major player in many tournament series.
Worst Villains Tournament Ever
Villains Battles 2
He's the hated rival of Yosemite Sam and consider as a minor threat to his's, Pete's and Scar's plans until he was stopped by Yosemite Sam's French Canadian Cousin : Blacque Jacque Shellacque later he was recruited by his former hated rival in order to put their differences aside and help each other.
Villains War (Saverio Gamba's) 
Prequel vs Sequel Villains War 
Prequel vs Sequel Villains War 2 
Animated vs CGI Villains War
Non Disney Villains War 
Non Disney Villains War Reboot