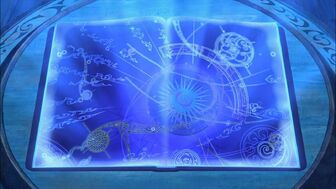 The Book of Peace is a magical and sacred relic, which it can secure the safety of the legendary city of Syracuse in Sicily. Protected by King Dymas and his son Proteus, the Book of Peace is initially sought after Sinbad, who would use the Book's value for profit. However, it is also sought after the Greek Goddess Eris, who would steal the book on purpose to devastate the city, leaving but ruins. The Book of Peace also appears in the villains tournaments, usually featured whenever Eris begins her new plots.
Disney Vs Non-Disney Villains War
Disney Vs Non-Disney Villains War - Part Two
Non-Disney Villains Tournament
The archive footage of the Book of Peace is used to represent the Book of the Dead, a relic that it would control Imhotep and his mummy servants. It is captured by Eris, allowing to become the new master of Imhotep.
Non Disney Vs DC Villains War
Community content is available under
CC-BY-SA
unless otherwise noted.