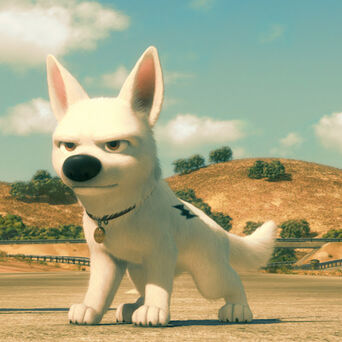 Bolt
is the eponymous protagonist of the Disney's animated feature film
Bolt
. A white German shepherd, Bolt was adopted from young age by
Penny
, who took him into a set to become an actor. As time passed on, Bolt grew as the star of his own super-hero franchise. Always loyal to Penny, Bolt's heroic esteem and devotion towards her master is never in question. Still, his popularity and headstrong personality led him to delusions of grandeur, believing he is an actual authentic superpowered canine. When he became spirited away from Penny, Bolt embarked on an adventure to reconcile with her along with some new friends. Over the course of his original journey, Bolt acknowledged the reality of his own situation, trying to make amends for the delusions he created. Ultimately, he saved Penny from a near-death experience, and retook his place as his master's irreplaceable companion.
While making a brief appearance in the second Disney Villains War, Bolt makes his full appearance in the second Disney Heroes vs. Villains acting as one of the animal companions of the scientific users of the San Fransokyo Institute of Technology, who assist their masters in their fights against Syndrome and his allies.
Community content is available under
CC-BY-SA
unless otherwise noted.