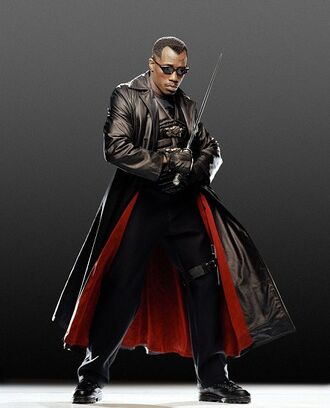 Eric Brooks, better known as Blade, is a hero from Marvel Comics, first appearing in Tomb of Dracula #10. He has also appeared in a trilogy of films, starting in 1998.
Eric's mother was bitten by a vampire while in labor, making Eric a "dhampir," or half-vampire, with many vampire abilities but few of their weaknesses. Dedicating his life to exterminating all vampires, Blade trained under the vampire hunter Abraham Whistler, who taught him the skills he needed to carry out his crusade. Clashing with enemies like Deacon Frost, Jared Nomak, and even the famous Dracula, Blade is the most feared nemesis of all creatures of the night.
Blade is planned to appear in Disney vs. Comics, where he will help a team of supernatural heroes fight against the Lords of the Splinter Realms' army of monsters.
Disney Vs Comics War
Community content is available under
CC-BY-SA
unless otherwise noted.