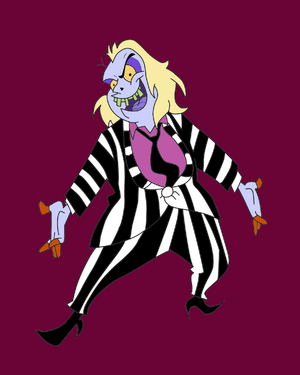 Beetlejuice is a prominent villainous force in the film, Beetlejuice. A demon who scares for hire, Beetlejuice is a secondary player in the Non Disney Villains Tournament.
Non Disney Villains Tournament
Clown Killer
Beetlejuice tracks down Pennywise while the latter is threatening to eat a child. Beetlejuice, who still has use for the child, tells Pennywise to stop. Pennywise tries to scare Beetlejuice, but Beetlejuice remains unfrightened. He uses some of his magic to begin melting Pennywise's face. While Pennywise reels in agony, Beetlejuice hurls silver at him, further damaging him. Beetlejuice laughs as Pennywise retreats into the sewers, never to be seen again.
Scheming
Beetlejuice joins up with a small group of ghouls intent upon world domination: Freddy Krueger, the Creeper, and the Djinn.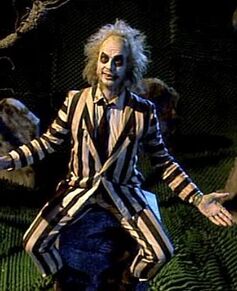 Community content is available under
CC-BY-SA
unless otherwise noted.