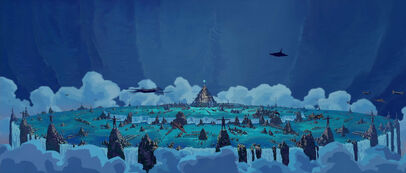 Atlantis is the ancient civilization that it is said to be founded thousands years ago, originally mentioned in Plato's works Timaeus and Critias as an allegory. It is featured as the mythical continent that sunk in one night, due to failing out of favor with the gods. Its mysterious, yet advanced and expert, technology, has surpassed each generation, civilization, and culture, in terms of warfare, political power, and the upgrown of construction sites. The concept of Atlantis has inspired and influenced various literature and film works including the Walt Disney's animated feature film, Atlantis: The Lost Empire, where it displays an exclusive plot and new take of the original tale.
The Disney's version of Atlantis has also been featured in the Disney Heroes vs. Villains War as one of the primary locations that the villains sought to conquer. The DC's version of the location also appears in the early events of the Non-Disney vs. DC Villains War as one of the realms threatened by the non-Disney villains, including El Supremo and Messina. The Marvel's version of Atlantis appears on the early events of Disney vs. Marvel Villains War, formely controlled by Attuma, and later by Ursula. In the latter its current state is unknown.

Community content is available under
CC-BY-SA
unless otherwise noted.