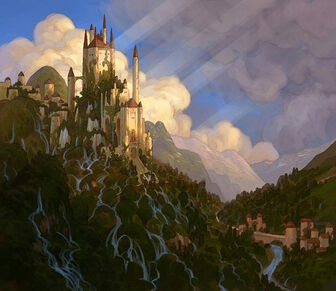 Andalasia is the main setting of the Disney's live-action/animated film Enchanted. A fantasy kingdom, inspired by the lands of the Snow White and the Seven Dwarfs and the Sleeping Beauty tales respectively, Andalasia appears as the homeland of heroes like Gizelle and Prince Edward, and villains like Queen Narissa and Nathaniel. Throughout the course of the original film, Andalasia was formely under the control by Queen Narissa, before her defeat in the live-action world by Gizelle and Pips, leaving the position of the new rulers to Prince Edward and Nancy Tremaine.
Regarding the villain tournaments, Andalasia briefly appears in the second Disney vs. Non-Disney Villains War, although it is heavily featured in the first and second Disney Villains Wars. In both occasions, it appears as the dominion of Queen Narissa, a major combatant in the villain wars. It is also displayed by the existence of the castle's wishing well, which appears as one the gateway to the live-action dimension, where many figures use it, in order to access the new world.
Community content is available under
CC-BY-SA
unless otherwise noted.