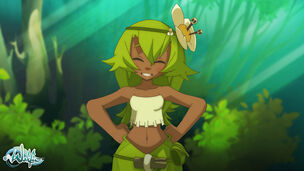 Princess Amalia Sheran Sharm is one of the main protagonists of the French television series Wakfu. The daughter of King Oakheart Sheran, and the sister of Armand Sheran, Amalia rejects the proper image of a lady for a life of adventure, outside her borders, in spite of her homeland's traditions. She is capable of drawing and creating plant life, a trait that it would be used occasionally in battles. She became involved in many adventures with Yugo, the latter to whom she became infatuated with over the progress of the series, and his friends, on purpose to stop evil forces who oppose them. She also contributes her effort to save her friends from the forces of evil, during the events of second Heroes vs. Villains.
Disney Vs Anime Villains War - Part Two
== Heroes Vs Villains War - Part Two ==
Community content is available under
CC-BY-SA
unless otherwise noted.