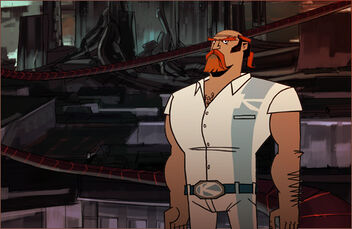 Abraham Kane is the main antagonist of the television series, MotorCity. He is a minor player in the second Disney Vs Non Disney Villains War.
Disney Vs Non Disney Villains - Part Two
Beaten by Hun
Abraham Kane sits out most of the war, but finally gets involved when Hun attacks KaneCo. Hun smashes through the compound in an armored car, so Kane leaps into a walker and fires his lasers. The car, however, is armored well enough to absorb the impact. Hun, however, leaps out, allowing Kane to fire his missiles. His shots miss. Hun hurls a tank of liquid oxygen at the walker, destroying it. Kane is left in a jumble, but he activates the walker hull's auxiliary function and escapes.
Meeting Xanatos
Abraham Kane meets the powerful criminal, David Xanatos. Intrigued by Hun's attack, Xanatos welcomes Kane into his alliance. Kan later tasks his best agent, Red, to steal one of Cobra Commander's latest camouflage technologies. Though Red is not inclined to listen, he eventually brings back Zartan and a copy of the technology.
The Battle of New York
Abraham Kane gets his chance for revenge against Hun when Xanatos attacks the Utrom Shredder's compound. Of all the members of Xanatos's faction, he is the least surprised to discover the Shredder is actually an alien. As Hun is stopped dead in disbelief, Abraham Kane readies his secret weapon. After quipping, "Behold, I have a gun that shoots a snake," he fires a snake into Hun. Hun is both bitten by the serpent and falls into an oncoming car. Xanatos's forces emerge triumphant from the fight.
Disney Vs Non Disney Villains - Part Three
Disney Vs Anime Villains War - Part Two
Disney Heroes Vs Villains War - Part Two
Heroes Vs Villains War - Part Two